Overview
A sustainable future is fundamental to our vision for Australia. Environmental sustainability is one of the Sidney Myer Fund and The Myer Foundation's five core values while addressing climate change is one of the two abiding themes of the current (FY19–23) strategic plan.

Our philanthropy is informed by the UN Sustainable Development Goals and we recognise the imperative of the UN Paris Agreement and the IPCC special report to limit global warming to at least 1.5 degrees and achieve net zero emissions by 2050, and the urgent action required by 2030 to achieve this target. Greater ambition, and a plan for action, is crucial to meeting global climate goals this decade.
Environmental sustainability is the remit of The Myer Foundation, which is pursuing a suite of strategies – a portfolio approach – to advance our commitment to this critical area. Grantmaking supports organisations taking discrete but complementary approaches to affecting systemic change, as well as direct action through the investment of The Myer Foundation's own financial resources.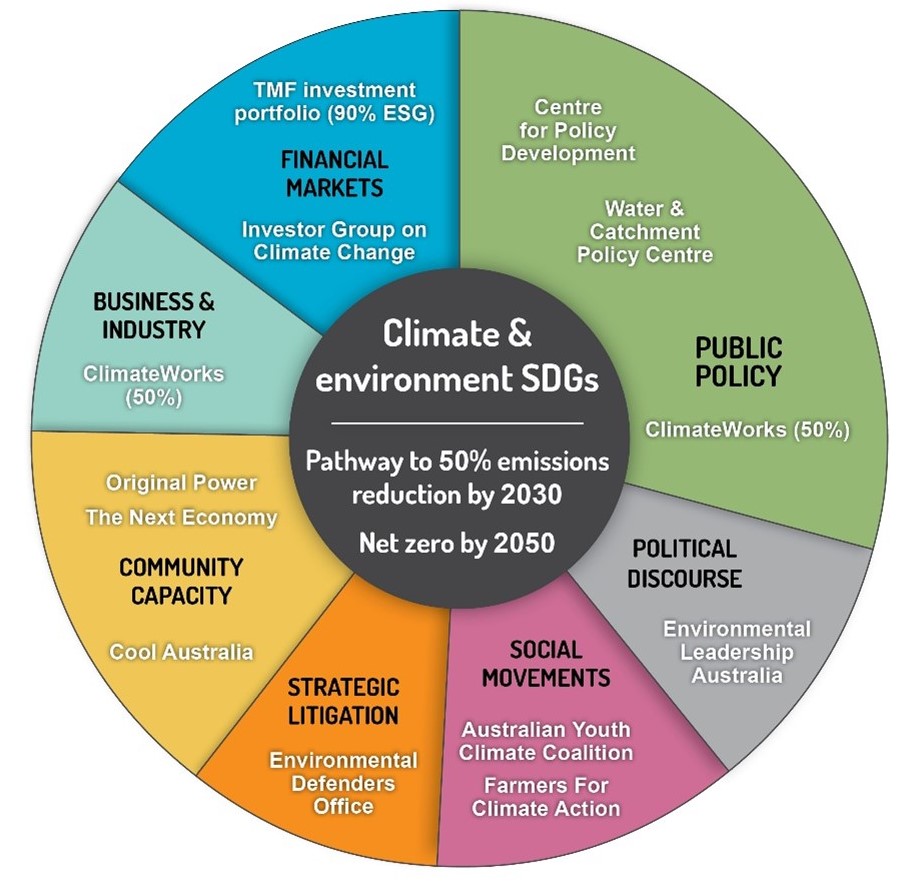 Sustainability & Environment Program Grantmaking
The Sustainability & Environment Program's focus area for the current strategic period is to support organisations that seek to influence key stakeholders to take action on climate change. In line with the Sidney Myer Fund and The Myer Foundation's strategic pillar of
organisations
, multi-year grants will be made to organisations whose purpose and work as a whole align with the focus area.
Should you believe your organisation's work as a whole aligns with the focus area please send a brief email to
admin@myerfoundation.org.au
for the attention of the Program Manager.
Organisations must meet a range of eligibility criteria to be considered for funding.
Projects, programs, initiatives, departments and/or campaigns will not be considered.
The Sustainability & Environment Program does not accept unsolicited applications.
Catalysing change: Watertrust Australia Ltd
Australia is the driest inhabited continent and has some of the most highly variable rainfall and run-off on Earth. Long-term, sustainable management of our waters and catchments is of critical importance. The Myer Foundation and The Ian Potter Foundation shared a vision to create a new, independent and authoritative centre that can rebuild trust and work collaboratively with all stakeholders to find common ground on water and catchment policy reforms. A coalition of 16 philanthropic funders has now committed to investing in the future by establishing a national and fully independent centre focused on helping improve the way decisions are made about water and catchments across Australia.
Transitioning to 100 percent sustainable investing
In 2020, The Myer Foundation undertook a significant portfolio restructure to fast track our goal to achieve 100 percent ESG (environmental, social, governance) aligned investments. We are now rapidly approaching this goal, two years ahead of schedule.

Current grantees
During the current strategic period FY19-23, the Sustainability & Environment Program has made grants for multi-year general operating support to the following organisations: